Canada: Sunday, October 06, 2019

The Royal Edinburgh Military Tattoo is a spectacular like no other, all set against the iconic backdrop of Edinburgh Castle. This year the Tattoo will capture the imagination of our audience in Kaleidoscope. Exploring colour, music and light, the 2019 Tattoo is inspired by the optical invention created by Scottish physicist Sir David Brewster in 1816. Celebrating glorious symmetries through precision-led performances, with the British Army at the fore, military and cultural acts from across the globe will be joined by the iconic Massed Pipes and Drums, Pipers Trail, Tattoo Dance Company and Hjaltibonhoga. Bigger and better than ever before, The Royal Edinburgh Military Tattoo is an experience for the senses.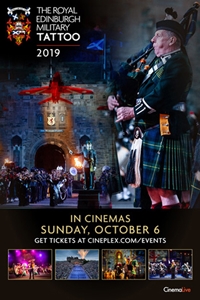 User Reviews
Public Reviews - 0 Reviews
There are no reviews for this movie.